Valley American Hairless Terriers Upcoming Litters
Our 2007 has arrived! We are the proud 'grandparents' of our long awaited Scooby-Pinkee litter! Two grey/pink females, two black/tan females, one apricot/lemon female, and 2 apricot/lemon males!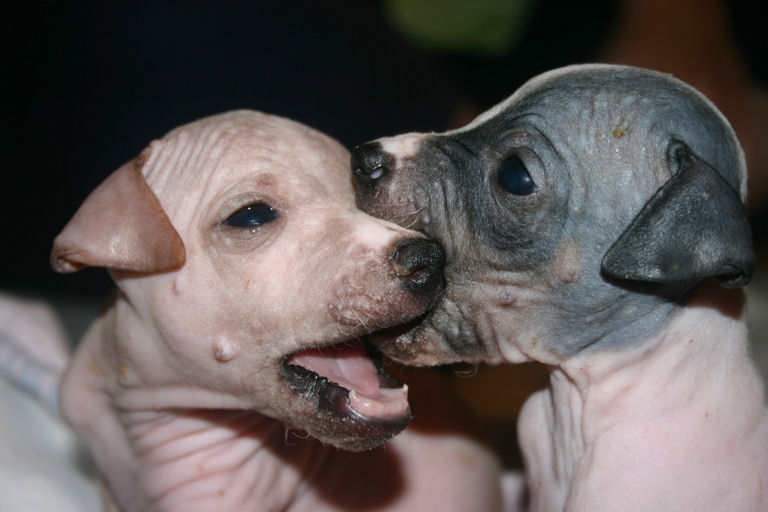 Keep up with the pups' progress as they grow and see pictures at Valley AHTs Puppy Blog!
We are now accepting $200, non-refundable deposits on puppies for our 2007 litter. Please check our Valley AHTs Puppy Blog often for updates with pictures and information on the litter! If you are interested in reserving a puppy, please fill in our questionnaire to help us get to know your family and what type of puppy you are looking to adopt.
Early reservations are highly recommended
We do not normally ship puppies as we must meet you and your family in person. The only exception is a previous puppy family who has one of our puppies, or already has an AHT from another breeder that we know. We may ship a puppy to you in that case, season permitting.
If you have any questions or concerns, or just want to talk at any time during your Valley AHT's lifetime, or have questions about AHTs in general, please feel free to contact us at any time. We are always happy to help any way we can. Please remember each of our puppies is a loved member of our family. No matter what age your puppy is currently, 10 months or 10 years, if for any reason you cannot keep your puppy, we must have our puppy returned to us immediately You may not sell or give away your puppy to any other person, even a family or friend.

Are you new to the whole process of adopting a purebred dog? Is this your first dog? Please email us for our 'So you want to get a puppy!' New puppy family information pack! It's free and full of information that will help you decide if a puppy is right for your family at this time, and will help you prepare for your new little one.